Bringing our readers unique, high-value content is something which netMAGmedia is always investing in. As such, we have partnered with audience research firm Edge Insight to survey our readerships on key topics which matter to them. From offsite construction, to Passivhaus, to remote monitoring of social housing, our survey findings are captured in sponsored White Papers and circulated among our audiences to develop specific market knowledge.
Below are some of our recent White Papers. Please fill out the form below to sign up to our mailing list and download the full reports.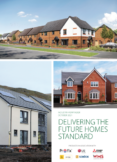 Delivering the Future Homes Standard - October 2021
It is estimated that our built environment is responsible for 40% of the UK's carbon emissions, with housing accounting for around 15% – with a general understanding that natural gas burned for heating and cooking is the main contributor to this.
Multiple governments have introduced and scrapped initiatives to try and address the issue – but it is only in recent years that a new mandatory standard has been developed to directly tackle emissions from UK housing, through the Building Regulations.
The Future Homes Standard (FHS) 2025 – a series of measures written into legislation that within four years – will see new housing producing 75-80% less carbon emissions than 1990 levels.
The Government has confirmed that, from 2025, no new homes will be allowed to be heated using fossil fuels, such as using the typical gas boilers. Homes will also be required to be 'future-proofed' to utilise the electricity grid as it continues to decarbonise – meaning a push for housebuilders to install heat pumps, which only require electricity.
Despite the laudable ambitions, the FHS is not without its opponents, and it will prove challenging to achieve for many construction firms in the UK. In order to ascertain housebuilders' views and understanding of the FHS, Housebuilder & Developer has conducted a survey of over 100 UK building professionals (over 80% of whom are in managerial roles).
Click here to sign up for the full report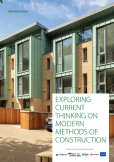 Exploring current thinking on modern methods of construction - May 2021
Housebuilding in the UK is suffering multiple crises at present, from rising costs, to low supply and a lack of skilled tradesmen.
While not a new technology, modular housing is seeing a resurgence in this country, and many argue that it has the potential to address all these issues. With 40 per cent of housebuilders still having never used offsite methods, however, it appears the technology is not being utilised to its full potential.
This research aims to find out why this is, what housebuilders and developers currently think of the differing forms of offsite building, and what are its main benefits and barriers.