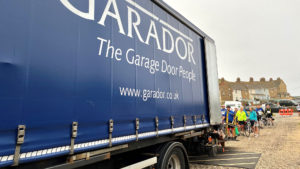 After last year's event was cancelled because of the pandemic, once again Garador has helped ensure a major fund-raising cycle challenge ran without a hitch.
The south west's Coast to Coast Cycle Challenge raises funds for the Dorset and Somerset Air Ambulance, and this year's event involved hundreds of cyclists riding across both counties raising money for the charity. There were two cycle routes to choose from, a 55 mile stretch which began in Watchet and finished in West Bay, and an 11 mile stretch which started out in Drimpton but also finished up in West Bay.
Garador played a vital role in providing transport to ensure all the bikes could be taken back to the start point after the event. Using the latest lorries from its modern fleet of delivery vehicles, Garador added special modifications to ensure all the bikes could be secured quickly and easily with no risk of damage during the journeys.
Everything went to plan, and around 600 bikes were successfully delivered to the right places at the right time.
"We have been supporting the local Air Ambulance service for many years," said Garador's Managing Director Neil Discombe. "We were delighted that we could help out again this year."
"Our vehicles are fitted with automatic lifting facilities and internal secured sections," he added.  "Adapting them to carry hundreds of modern bikes was fairly straightforward and we were more than happy to offer our assistance for this important local charity."